You Had Me At Aloe
Succulents are versatile and thrive in our climate. If you don't have much of a garden or even none at all, they are the perfect way to keep your green thumb nimble. Most don't require too much attention, as it's in their nature to survive on very little water. Just make sure you get your initial set-up right and into a good routine, and you'll be a budding horticulturist in no time. Here is a quick video that runs through the basics, and you can always consult your local nursery for expert tips.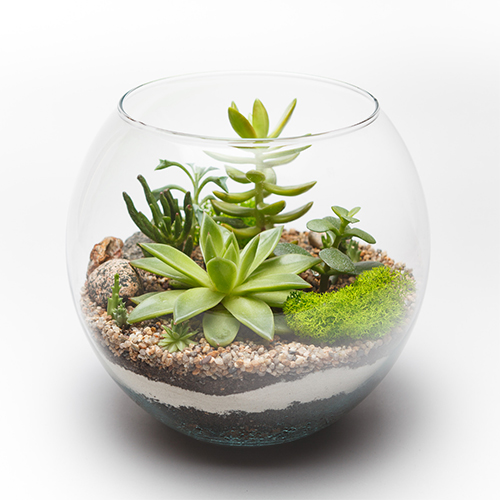 Terrific Terrariums
A beautiful succulent arrangement can add life and vibrant colour to your space. You can keep it simple with just a few plants arranged in small containers or go all out and incorporate multiple plants in one large display. Almost any suitable vessel can be used as a planter, from terrariums, pots or glass vases to trinket boxes or mugs. Get creative and give your arrangement a personal touch using woods, stones, gravel and other objects. A lovingly crafted succulent arrangement in a pretty mug even makes an excellent gift for a friend.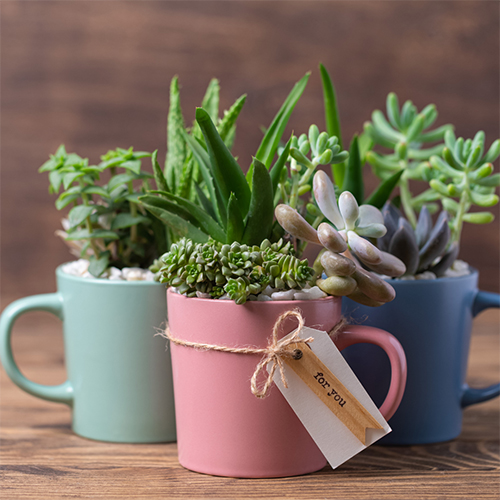 Tender or Tough
No matter your taste, you'll find a succulent to suit it. There is no lack of choice with such a wide variety of plants, from soft and fleshy to more hardy types. Both categories are extremely diverse, with lots of size options. Rosettes are the most popular amongst the soft variety due to their elegant and symmetrical appearance and are available in numerous colours and shapes. The string of pearls, aptly named for their globe-shaped beads, is a prevalent choice for use on a shelf due to their spilling vine-like nature. If you're pursuing low maintenance, hardy succulents are a more suitable option. They have much stronger leaves and enjoy direct sunlight. Their colours span the spectrum from greens, yellows and oranges to deeper reds and purples, with numerous flowering variants.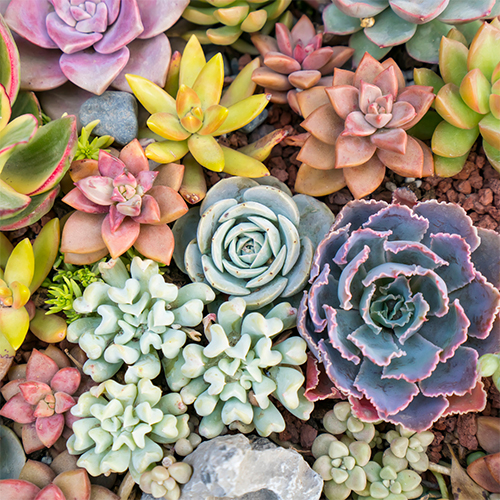 You can encounter succulents at local nurseries and even at some retailers. Once you're sucked in, you'll find delight in tending to your easy-care garden.