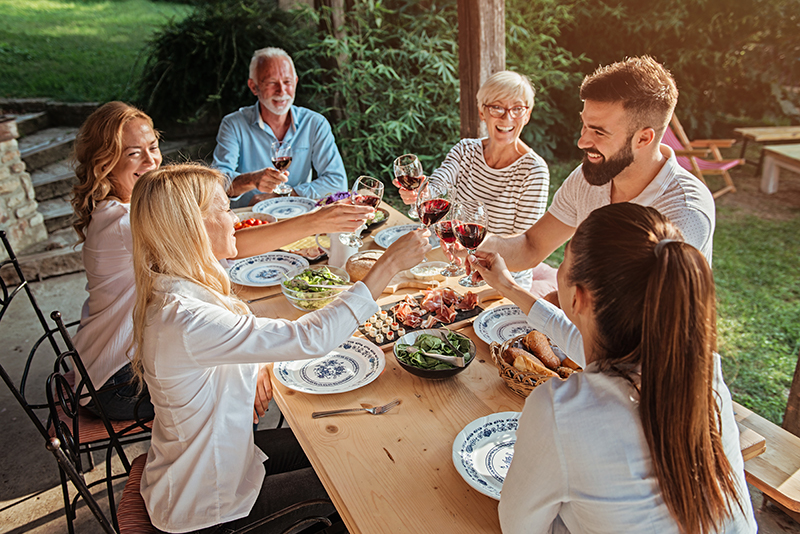 South Africa can be described as a melting pot of traditions and cultures! One of the many aspects that define our culture is the variety of food and cuisines that our country has to offer.
Cooking is considered a social activity for many and it often brings multiple people and cultures together around a dinner table. Whether it be a casual braai outside your home with your family and friends (sitting around the fire on that blistering cold day to keep warm, roasting some marshmallows over the fire) or enjoying a delicious meal around the table paired with a divine glass of South African wine.
I am sure we can all agree that food creates a sense of community and can be shared amongst one another. If you are visiting your grandparents this month and are looking to do something special with them - what a better way to spend your time cooking & baking a special treat for your loved one?
This is why we are sharing our four quick and easy - proudly South African recipes for you to try out.
RECIPE 1: BOBOTIE
Portions: 6 servings

Pronounced Ba-boor-tea, a popular South African dish. A combination of fresh herbs and curried minced-meat.

Ingredients:
| | |
| --- | --- |
| 15ml olive oil | 2 tbs fine apricot jam |
| ½ cup of onions chopped finely | ½ of chutney |
| 3 garlic cloves (chopped finely) | 2 tbs of brown sugar |
| 1kg ground beef mince | 2 tbs Worcestershire sauce |
| 4 tsp curry powder | 2 tbs tomato sauce |
| 1 tsp turmeric | 2 slices of white bread (soaked in 500ml milk) |
| 2 tsp salt | 2 eggs |
| A pinch of black pepper | A pinch of salt and black pepper |
| 2 tbs lemon juice | 3 bay leaves |

Method:
Preheat your oven to 180° C.
In a large sauce pan – heat the olive oil and sauté the onions in the pan. Add the garlic cloves whilst sautéing the onions.
Add the beef mince – fry until the meat is golden brown. You can add half a cup of water to assist you with the browning of the meat. This will take about 10 minutes to cook.
In a mixing bowl combine all the dry herbs and spices together: curry powder, turmeric, salt, black pepper, lemon juice, jam, chutney, sugar, tomato sauce and soaked bread. Add all the dry ingredients to the saucepan and mix slowly until all combined.
Add the Worcestershire sauce to the meat and simmer for 30 minutes. Mix all the ingredients in a sauce pan regularly.
Once cooked transfer all the ingredients into oven dish.
Grab a mixing bowl and combine eggs, milk, and seasoning. Gently pour the egg mixture over the meat and add your bay leaves.
Bake for 30-40 minutes until golden brown.
Serving Suggestion: Serve with either Greek salad, yellow rice, fresh vegetables, sweet pumpkin or mash.
RECIPE 2: OXTAIL POTJIE
Portions: 8 servings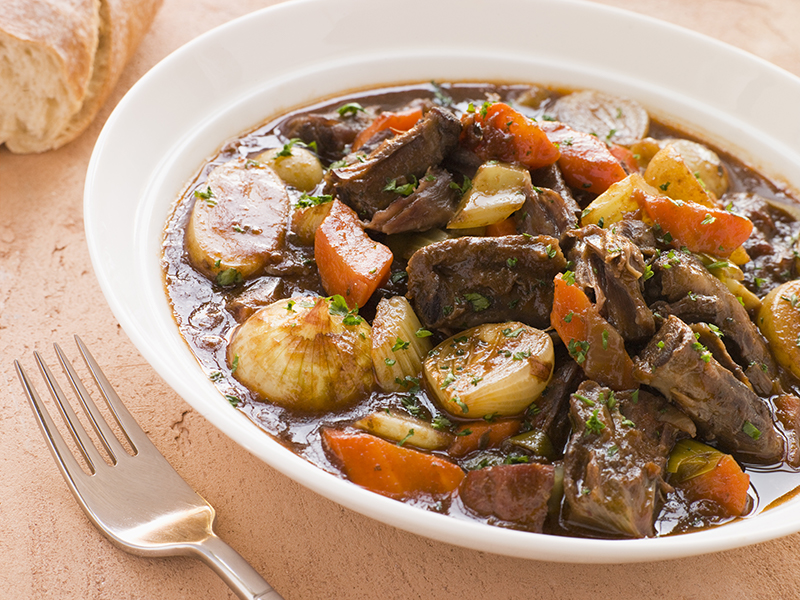 There is nothing heartier than a delicious Oxtail Potjie – here's how you make it!
Ingredients:
| | |
| --- | --- |
| 30ml of butter | 1 large celery stick diced |
| 30ml of canola oil | 2 rosemary stick herbs |
| 30ml tomato paste | 12 baby (mini) onions |
| 1.5kg oxtail meat (reasonable sizes) washed and lightly coated in flour | 250 g of baby carrots (cut into large chunks) |
| 1 onion | 12 baby potatoes |
| 2 Garlic Cloves | 250ml beef stock |
| 1 large carrot sliced | 500ml red wine |
Method:
Wash your oxtail pieces thoroughly and coat the pieces lightly with flour in a bowl.
Heat butter and oil in the potjie wait until hot.
Add your oxtail and garlic cloves to the pot. Brown the meat and set aside until cooked. Oxtail takes a long time to cook so be patient during this period.
Once your oxtail is semi cooked add the onions, carrots, celery and rosemary and fry until all is softened.
Add all your remaining vegetables. Add the stock, tomato paste and wine to your ingredients.
Cover and simmer on a moderate heat for 4 hours.
Add more liquid (water/wine) if the liquid evaporates too quickly.
Once meal is cooked - serve and garnish with parsley or coriander.
Serving Suggestion: Serve with either with rice, mash or fresh homemade bread.
RECIPE 3: MALVA PUDDING
Portions: 8 servings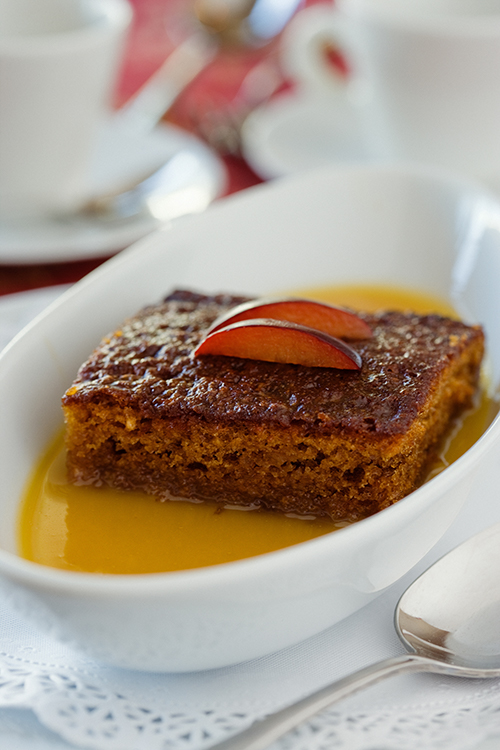 A mouth-watering dessert you have to get your hands on.
Ingredients:
| | |
| --- | --- |
| 30ml butter | 10ml bicarbonate of soda |
| 250ml sugar | 60ml apricot jam |
| 2 eggs | 500ml of cake flour |
| 30ml vinegar | A pinch of salt |
| 250ml of milk | |
The Sauce:
| | |
| --- | --- |
| 500ml milk | 60ml butter |
| 375ml boiling water | 375ml sugar |

Batter:
Preheat the oven to 180° C.
Grease an oven dish with a non-stick spray.
Mix the vinegar, bicarbonate of soda and apricot jam together in a small bowl.
Sift the flour into a large mixing bowl. Add the creamed butter and jam mixture – mix simultaneously whilst pouring the milk and salt to form a batter.
Pour the batter into the greased oven dish and bake for 55 minutes until golden brown.
Sauce:
Add the: milk, water, sugar and butter.
Bring the liquid ingredients to a boil in a sauce pan, stir frequently.
Pour the sauce over the pudding as soon as it comes out of the oven.
Serve either with hot custard, fresh fruits and berries or vanilla ice cream.
RECIPE 4: MILK TART
Portions: 12 Servings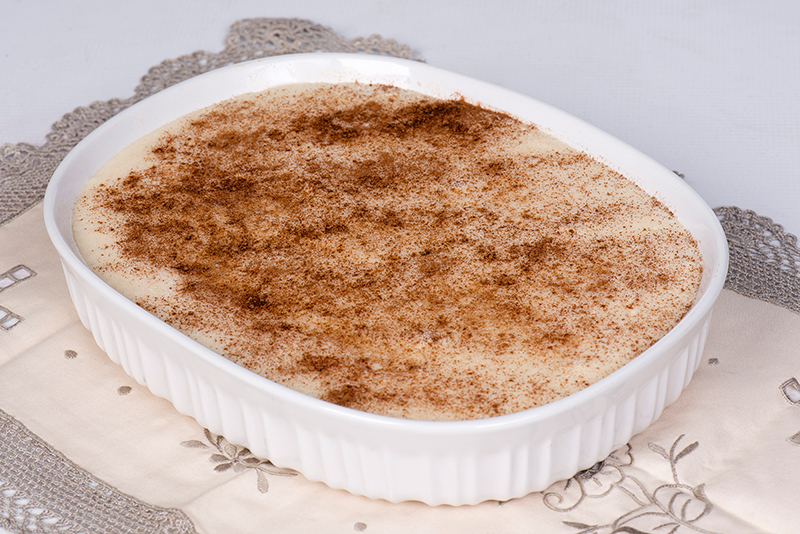 Dessert time is anytime. Try our delicious traditional milk tart recipe!
Ingredients:
| | |
| --- | --- |
| 125g butter, softened | ½ cup sugar |
| 1/2 cup castor sugar | 2 tbsp flour |
| 1 egg | 2 tbsp corn flour |
| 2 cups cake flour | 1 tsp vanilla paste |
| 1 tsp baking powder | large tbsp butter |
| Pinch of salt | 1 tsp vanilla essence |
| 2½ cups milk | 1 tsp ground cinnamon |
| 1 cinnamon stick | 1 tsp mixed spice |
The Crust:
Cream the butter and sugar together in a mixing bowl with an electrical mixer.
Add the egg and beat it thoroughly.
Incorporate the cake flour, baking powder and salt together.
Mix thoroughly to form a stiff dough.
Press the dough evenly into the tart tin.
Blind bake your pastry at 180°C for 30 min until the pastry is a golden brown and crispy.
The Filling:
Place the milk and cinnamon stick into a sauce pan.
Bring the liquid to a boil and then discard the cinnamon stick.
Whisk together eggs, flour, sugar, corn flour and vanilla.
Pour the hot milk mixture into the egg mixture on a medium heat and continue to whisk until thickened.
Stir through a spoonful of butter
Pour milk mixture into the baked crust pastry and lightly dust and sprinkle ground cinnamon.
Allow the milk tart to cool off before serving.
Garnish and serve with a fresh piece of mint.